教师名称
一、讲授课程
本科生:变质岩石学
研究生:地球科学进展(变质岩石学部分)
二、学习和工作经历
2003/09–2007/07:兰州大学资源环境学院地质学系,地球化学学士学位;
2007/09–2012/07:北京大学地球与空间科学学院,岩石学博士学位;
2012/07–2017/05:西北大学地质学系,讲师;
2013/12–2014/12:美国马里兰大学地质学系学术访问;
2016年2月:澳大利亚科廷大学应用地质系学术访问;
2017/05–现在:西北大学地质学系,副教授
三、科研情况
(1)学术论文
1.Gou, L.L.*, Zhang, C.L., Brown, M., Piccoli, P.M., Lin, H.B., Wei, X.S., 2016.P–T–t evolution of pelitic gneiss from the basement underlying the Northwestern Ordos Basin, North China Craton, and the tectonic implications.Precambrian Research 276, 67–84.
2.Gou, L.L.*, Zhang, L.F., 2016.Geochronology and petrogenesis of granitoids and associated mafic enclaves from Xiate in Chinese Southwest Tianshan: implications for early Paleozoic tectonic evolution.Journal of Asian Earth Sciences 115: 40–61.
3.Gou, L.L.*, Zhang, C.L., Wang, Q., 2015. Petrological evidence for isobaric cooling of ultrahigh-temperature pelitic granulites from the Khondalite Belt, North China Craton.Science Bulletin 60, 1535–1542.
4.Gou, L.L., Zhang, L.F.*, Lü, Z., Shen, T.T., 2015. Geochemistry and geochronology of S-type granites and their coeval MP/HT meta-sedimentary rocks in Chinese Southwest Tianshan and their tectonic implications.Journal of Asian Earth Sciences107, 151–171.
5.Gou, L.L.*, Zhang, C.L., Zhang, L.F., Wang, Q., 2014. Precipitation of rutile needles in garnet from sillimanite-bearing pelitic granulite from the Khondalite Belt, North China Craton.Chinese Science Bulletin 59, 4359–4366.
6.Gou, L.L., Zhang, L.F.*, Tao, R.B., Du, J.X., 2012. A geochemical study of syn-subduction and post-collisional granitoids at Muzhaerte River in the Southwest Tianshan UHP belt, NW China.Lithos 136–139, 201–224.
7.苟龙龙,张立飞*,2009.新疆西南天山木扎尔特河一带低压泥质麻粒岩岩石学特征、独居石U–Th–Pb定年及其地质意义.岩石学报,25(9): 2271–2280.
8.Zhang, C.L.*, Diwu, C., Kröner, A., Sun, Y., Luo J., Li Q.,Gou L.L., Lin H., Wei X., Zhao J., 2015. Archean-Paleoproterozoic crustal evolution of the Ordos Block in the North China Craton: constraints from zircon U–Pb geochronology and Hf isotopes for gneissic granitoids of the basement.Precambrian Research 267, 121–136.
9.Zhang, L.F. *, Du, J.X., Lü, Z., Yang, X.,Gou, L.L., Xia, B., Chen, Z.Y., Wei, C.J., Song, S.G., 2013. A huge oceanic-type UHP metamorphic belt in southwestern Tianshan, China: Peak metamorphic age and P–T path.Chinese Science Bulletin 58, 4378–4383.
(2)科研项目
1. 国家自然科学青年基金项目(2014/01–2016/12)
2. 2015年西北大学优秀青年学术骨干支持计划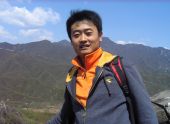 苟龙龙
| | |
| --- | --- |
| 所属部门: | 岩矿教研室 |
| 职称: | 副教授 |
| 研究方向: | 变质地质学 |
| 电子邮件: | LLgou@nwu.edu.cn |